John Wesley Hopper
Walnut Creek, California

John works in oils, acrylics and watercolors. He is also an avid photographer. John owns his own graphic arts & advertising agency in Walnut Creek.

Born in Seattle, John has won scholarships and awards for his painting and has been exhibited at Seattle Art Museum, Frederick & Nelson's, Carnegie Institute, Pittsburgh, PA and numerous private galleries. Locally he has exhibited at Lafayette Studios, John Muir Hospital, Lafayette Art & Wine, and recently had a one-artist retrospect at Mt. Diablo Unitarian Universalist Church. He is a member of Lamorinda Arts Alliance.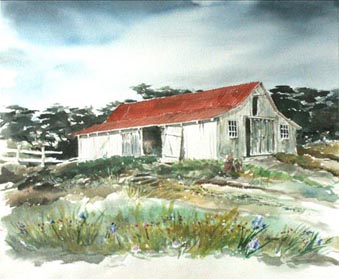 John designed the logo currently in use for the Mt. Diablo Peace & Justice Center and has donated paintings to the Peace & Justice Center auctions to help support their efforts.

"It is with a great deal of pleasure that my watercolor paintings have been so well received and have helped to support the work of the Mt. Diablo Peace & Justice Center. I have been an activist for many years and much of my early work represents statements concerning the nuclear arms race, the Korean conflict and the Vietnam War."

News of current exhibits and shows may be found on the Home page.
It includes current exhibits that feature local artists other than John.
John offers his paintings, prints and photography for sale. You may contact him for more information at: John@jw-hopper.com
"White Barn at Sea Ranch" — 2005
Watercolor 18" x 22", framed 24" x 30"
Purchased at Mt. Diablo Peace & Justice Center Auction.
In the collection of Bob Hanson and Lyda Dicus