Current Events, Workshop & Exhibits:

"Watercolor just for the FUN of it" — RAA six-class course enrolling now at Rossmoor Studio One, from 6 to 8pm each Wednesday starting September 13th through October 25th. You can email John Hopper for more information, or go to: http://www.rossmoorart.com/hopper.html
CWA Exhibit "Go Figure" at Lindsay Dirkx Brown Gallery, San Ramon. Juried Show with two paintings accepted; "Hangin' in the Hood" & "Forest Falls" Reception at Gallery, Sunday, June 10th from 1 to 4pm. All welcome — Light refreshments served.

Exhibit at Atria of Walnut Creek - A Group exhibit with six of Hopper's watercolor paintings, Now through November, 2017. Theshow includes; "Smokey Joe", John Singer Sargent", "How Many Barns" and 3 more. The address is: 1400 Montego, Walnut Creek (close to John Muir Hospital.

COMING:

Saturday, September 16, 2017 Art in the Yard — at Bancroft Garden A NEW venue for this FUN event which is always an annual favorite with everybody. This will be my seventh year participating in this wonderful happening. for more info go to: www.artintheyardconcord.com.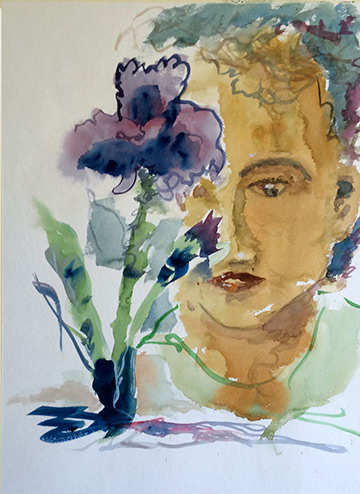 "Iris "
watercolor 22" x 16"
Now on exhibit at Creekside Gallery
Walnut Creek, CA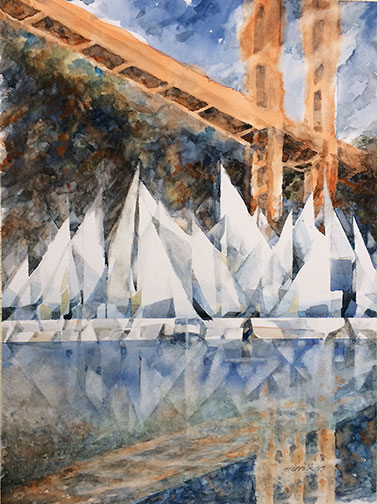 "Opening Day on the Bay"

watercolor 22" x 16"
CWA "Different Perspective"exhibit
at Delta Gallery - Brentwood , CA


Continuous Exhibit — See work exhibited at absolutearts.com
PAST SHOWS & DEMOS
"Different Perspective" — California Watercolor Association's juried show selected "Opening Day on the Bay" as part of the exhibit at Delta Gallery in Brentwood, CA. I won First Place in the show.
RAA Evening Soiree – January 20, 2016
A wonderful evening of wine, nibbles and music which honors a guest artist and this evening it happened to be me showing and discussing my work. Thanks RAA!
The Body Gallery, San Francisco through December 2015.
A Solo Show of 15 pieces; Oils, Acrylics & Watercolors. Click here for more info.
California Watercolor Assn. Juried Show, "Risky Business" Aug. 29th through Oct. 9th at Aspen Surgery Center in John Muir Hospital, Walnut Creek. For more information click here.

MDUUC Gallery through September 24, 2015 - watercolors, graphic design and photography. Marie Arce, a gifted photographer also showed her work concurrently at MDUUC Gallery.
WATERCOLOR DEMONSTRATION — Wednesday, February 4, 2015 — The Rossmoor Art Association invited me to do a watercolor demonstration at the Rossmoor Art Studio. There is a video for loan at the Rossmoor Art Assn. Library.
September 24, 2014 — Art in the Yard, Concord, CA — An all-day event featuring 23 artists & craftspeople plus live music, wine and munchies. I did a demo watercolor of the yard party that was auctioned to benefit the Concord Rotary Endowment.
Sept. 2nd to 27th, 2014 — aRt Cottage, Concord, CA — LAA Group Show I had six paintings in this wonderful group exhibit. For information about aRt Cottage go to: http://www.artcottage.info/p/current-show.html

July 14 — September 14, 2014 A curated show of Lamorinda Artists was on exhibit at Moraga Country Club. "Crowsline" a 24" x 12" acrylic was selected for the show .
February 3 to March 28, 2014 — 19th Annual International Juried Art Show ARTS IN HARMONY 2014 — invited me to show my "Yosemite Falls" watercolor For more information go to: Arts in Harmony
Nov 9 through Nov 28, 2012— AC5 Art Passages Gallery — Contra Costa County Office Building, 651 Pine Street, Martinez — The exhibit was a wonderful success thanks to Carolyn Victoria, AC5 Curator. For an interview of exhibitors and a Video go to: Bridge Art Space
More art at The Art Gallery page